Daily banking without borders
Our multi-currency business accounts are fast and easy to open. You get an account in your name in GBP, USD, EUR and 30+ other currencies. Best of all, you can open an account online in minutes - no hassle, no lengthy interviews and no branch visits!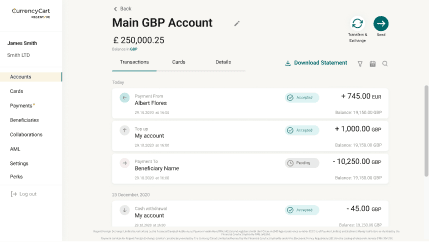 GBP

EUR

USD

Further currencies + Currency wallet
Business payments made easy
With our current account you can make payments in GBP, EUR, USD and 30+ other currencies, all in our clear and easy to use online platform. You can make or automate single or bulk payments locally and globally. Regent FE has lightning fast payments and clear reporting and instant notifications for both you and your beneficiary. Keep both your team and your client happy!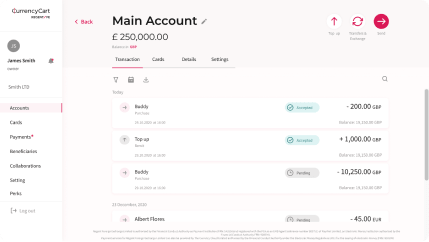 88% of cross boarder payments are same day
Local payments in 35 countries
Notifcations and updates

International payments to over 200 countries
Powerful, easy to use currency management tools for your business
Benefit from Regent FE wholesale exchange rates with no extra commissions and fees. On both same day and forward dated exchanges, Regent FE currency tools save you time and money. New features to be added soon are rate alerts and market orders. Take the stress out of managing your currency with our powerful tools that are simple to use for every business.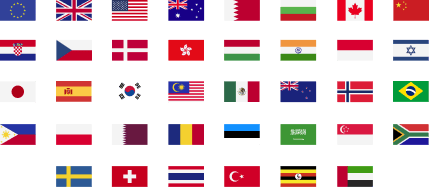 Real time FX rate

Transparent Pricing

Currency risk tool-kit

24/5 Exchange
GBP and EUR Mastercard Debit cards for your team
Issue cards to your staff at the click of a button. Regent FE lets you simplify expense management and reconciliation with MasterCard debit cards for you and employees. Set limits and transaction types, get reports, and activate or suspend cards - all in just one click. Save time and take control, your team will love you for it!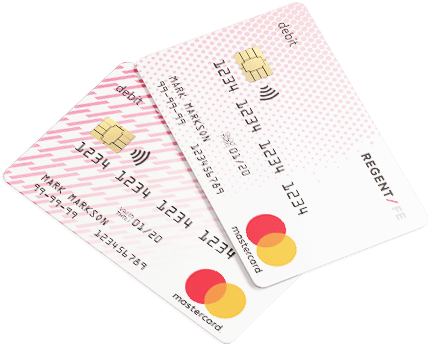 Issue cards to employees in one click

Control limits

Centralized management

Easy expense reporting
Your e-commerce platform is better with Regent FE
Cut banking and admin costs with Regent FE's extensive transactional banking capabilities and integrated ledger accounting system. Regent FE provides an ideal platform for e-commerce players to launch their global presence.

Integrated ledger accounting

Separate currency flows

Project specific accounts

Consolidated currency management
UK SME Pricing(For full pricing see PDF with current pricing)
Account
Opening fee
0 GBP (IBAN and non-IBAN)
Mastercard Debit cards
GBP and EUR Mastercard Debit
1 Free
Virtual GBP and EUR Mastercard Debit
1 Free
Payments
Local payments in GBP and EUR
£0.2 for incoming and outgoing payments
Other currency Local payments
NOK, DKK, SEK, PLN, AUD
£1.00
SGD, MXN, HUF, CZK, CAD, INR, IDR, MYR
£1.70
Priority - SWIFT Payments
£7.00
Foreign exchange
Mark up from interbank exchange rate
0.5% on all your volume
Online Banking
Instant notification
* For EU based corporates and freelancers with an active account. For full information please refer to the Pricing section of the full Terms and Conditions.
Non-EU based corporates and freelancers please see full T&Cs for Pricing details.
** Incoming payments for GBP account via Faster Payment and SWIFT. Outgoing payments via Faster Payments and SWIFT.
*** Incoming payments for EUR account via SEPA Payment and SWIFT. Outgoing payments via SEPA and SWIFT.
Regent FE is a multi-currency transactional banking alternative specially designed for your business. Sign up now. It only takes minutes.