Accounts to Collect money locally and internationally
Receive payments in any currency for effortless collections around the world.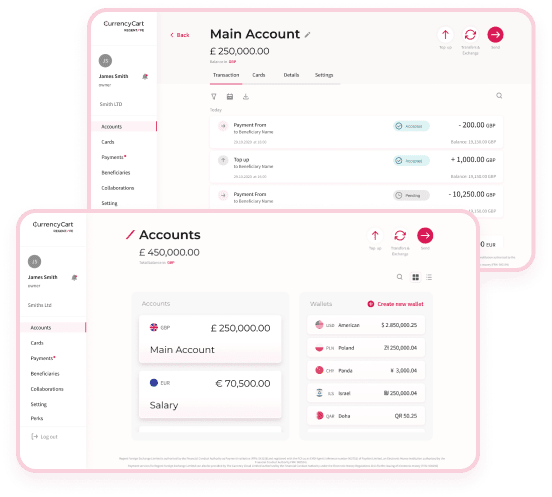 Collection and Payment Accounts
Business customers such as exporters, online sellers, international companies and more can collect money from customers, acquirers, e-commerce platforms, investors and others in multiple currencies easily while saving time and money.
Open an account in a day
Local Accounts in GBP, EUR and USD
International IBANs in 38 currencies
Unique accounts in your company name
Invoice customers and collect payments in 38 currencies
Access all your companies in one platform
Cost-effective Local payments in over 35 countries
SWIFT payments to 200 countries in 38 currencies
Convert incoming and outgoing currency at wholesale rates
Manage currency risk by locking in exchange rates for up to 12 months
Mastercard Debit card for all you payment needs
Bulk payments via File Upload or an API integration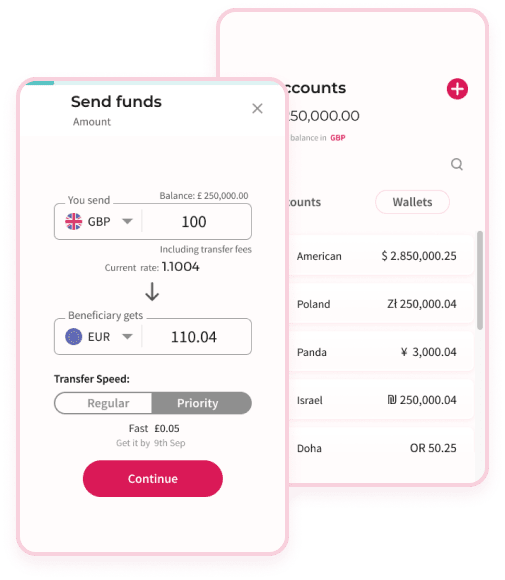 What is different about Regent FE account comparing to a bank?
Regent FE issues an account in your name/name of your business. This account will have a unique IBAN/account number specific to your business and a SWIFT code. You can use these details on your invoices and contracts to collect funds directly into your account and make payments from it in your name.
What countries / jurisdictions can the business entity be registered in?
Are there any restrictions of the type of businesses Regent FE onboards?
Regent FE Accounts support a wide range of business activity including importing and exporting companies, consultancies, marine and aircraft fleet management, e-commerce platforms, online sellers, regulated companies and more.